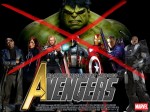 Hollywood thinks we're stupid. In fact, Hollywood is counting on it and it's also counting on our ignorance. The latter stops here because I'm reminding you of some of the  crap that Hollywood, and Marvell and DC Comics , has pulled just last year alone.
Superman- No longer American – here is the exact despicable quote from the 900th issue of Superman, "I intend to speak before the United Nations tomorrow and inform them that I am renouncing my U.S. citizenship," he says in a cell in the issue. "I'm tired of having my actions construed as instruments of U.S. policy." The shameful despicable yentas at Marvell are ashamed to be Americans . Fine.  Let the damn UN go watch their movie, unless, of course, you just don't give a rat's azz…then go see idiotic movie.
Superman NO "Truth, Justice, and The American Way"– Just prior to spitting in our faces and making Superman an "international man of mystery" by renouncing his citizenship the yentas at DC Comics decided that Americans are not good enough for them so instead of Truth, Justice, and the American Way,,  superman declared that he stands for "Truth, Justice, and all that Stuff".
Here is the head screenwriter's explanation:
"So, you play the movie in a foreign country, and you say, 'What does he stand for? — truth, justice, and the American way.' I think a lot of people's opinions of what the American way means outside of this country are different from what the line actually means (in Superman lore) because they are not the same anymore," Harris says. "And (using that line) would taint the meaning of what he is saying." Fine, then let them play Avengers in a foreign country, Americans should boycott this crappy flick.
Spiderman- no longer white- You've all known that Hollywood has a deep hatred for whites and is engaged in a an all out active war against whites. That's not news. So you shouldn't be all that surprised that Marvell and Hollywood decided that Peter Parker will be remade into Pietro Parker. Actually, he is "Miles Morales," who is half-African-American, half-Latino.
If Hollywood and Marvel is so racist that they actually change the race of a beloved comic book hero and American pop culture icon to fit their anti-white agenda, why are you giving them your money?
Captain America – Not American – The recent remake of Captain America was, well, not Captain America. Marvel and Hollywood were too embarrassed to release the movie as "Captain America" in foreign countries, so they changed the name to "The First Avenger" for release in foreign countries.
If these Marvel and Hollywood weenies are too embarrassed to call themselves Americans, why are you not embarrassed to give them your money?

Read these Related Posts: