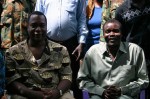 The official number of US troops in Uganda is 100, rest assured there are a lot more than that.
Be that as it may, reality is that we are now involved in 5 wars and counting!  There are many questions that need to be answered and I hope we'll get to them soon, but the question  foremost in everyone's mind is will Congress do anything or are they just going to bow to Obama and say "thank you sir may I have another"
I think it's high time Obama gets another another Nobel Peace Prize.
Obama made this announcement in a letter to House Speaker John Boehner, R-Ohio, Friday afternoon, saying that "deploying these U.S. Armed Forces furthers U.S. national security interests and foreign policy and will be a significant contribution toward counter-LRA efforts in central Africa."
We are sending 100 troops half way around the world to fight a rebel force of about 200 to 300 people?
The purpose of this latest war is to help stop and capture a Ugandan rebel. How is this possibly in the US national interest and why is Obama risking the lives of US troops for this?
Out of one side of his mouth Obama says that he wants to cut the military budget, on the other side he says that the military is spread  thin and troops should be brought home and in spite of all this and  WITHOUT EVEN BOTHERING TO INFORM THE AMERICAN PUBLIC Obama decides to send troops into Uganda. If you think that there are only 100 troops you are a prime candidate for bridge purchase. What military unit has exactly 100 men? None. If Obama sent a company size unit to Uganda then there are at least 200 Americans there between intelligence gathering, all kinds of clandestine operators, air support, drone personnel  and what have you.
This size contingent is very troubling because it is big enough to act as an advance party for additional troops.
If Obama wants to catch the  damn rebel tell him to send his fat ugly wife Michelle over and see if she can scare him straight!

Read these Related Posts: