It is unprecedented for a NATO ally to accuse the Unites States of funding and aiding a mass murdering terrorists group that beheaded that roamed the Middle East and beheaded untold number of human beings …and worst.
Turkish Prime Minister Edrogan goes even  step further claiming that he has proof of this treachery and crimes against humanity:
"They were accusing us of supporting Daesh [Islamic State]," he told a press conference, according to Reuters.
"Now they give support to terrorist groups including Daesh, YPG, PYD. It's very clear.
We have confirmed evidence, with pictures, photos and videos."
The Associate Press reports that while Mr. Edrogan does not seek US involvement in the peace process for Syria he did extend an invitation to other countries in the region, including Saudi Arabia and Quatar saying they had "shown goodwill and given support" to Syria. It's very disturbing to see a NATO ally not trust the United States enough to involve us in a peace process.
The accusations are incredibly serious and can possibly open up the Obama administration to charges of "crimes against humanity"
Many are not surprised by this and have been accusing Obama , Hillary Clinton and John McCain of funding terrorist groups for many years. As expected those who made these allegations were labeled "racist" and "white Christian nationalists" in an effort to silence us. Now we have a crucial NATO ally willing to provide evidence that Obama provided support to the most vicious violent and barbaric terrorists group to roam the world.  How is it possible no to investigate and bring charges of aiding, abetting and cooperating with terrorists, and charges of human rights violations and charges of crimes against humanity against Obama and his accomplices.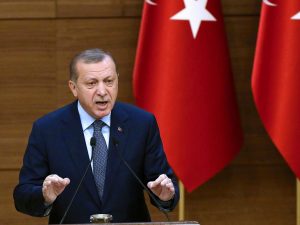 Read these Related Posts: