Five more Americans were killed by another Muslim brought in by Hillary, Obama, Bush and Paul Ryan. how do you like the new "norm?" If not what are you doing about it?
"Can we get a grip yet?
Is it time to admit we have a problem with Islam?
Next they will tell us they can find no connection between the kid and the ISIS. Watch for it. He wasn't carrying an ISIS card when he was arrested. That proves it's not terrorism.
Then they will tell us it was a crime of passion. Perhaps one of the four women he killed had been involved in a relationship with him. Doesn't change a thing!
This guy killed five people – four of whom were women in a makeup department of Macy's. I'll place another wager and guess none of the four were wearing a hijab.
It still comes down to the fact that we have a Muslim problem in the West. When are we going to recognize it – and stop importing them, stop subsidizing the resettlement of Muslims for whom we are unscreenable?
Has our nation gone insane? Or are Democrats just this desperate to attract future voters that they would ensure more bloodbaths, rapes, anti-Semitism, a future of misogyny and terror?"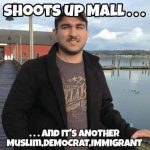 Read these Related Posts: