After not mentioning immigration at all during his 45minute announcement speech or even during his first tow or three campaign stops  Walker is tepidly adding the topic of illegal immigration to his stump speeches. So while it's not so difficult to add a couple of boilerplate sentences regarding this issue to a speech or two, Scott Walker has a long way to go convince anyone that he actually gives a damn about illegal immigration.
"Meanwhile, in his announcement speech previously in Waukesha and in his first couple campaign stops, Walker didn't include as part of his speeches the issue that's helped him skyrocket to and stay at the top of the polls in places like Iowa: Immigration.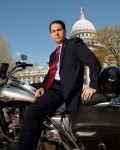 "Even though immigration has often dominated this presidential contest, Walker did not mention it in his announcement speech or his first couple of campaign stops, including a breakfast at a Harley-Davidson dealership in North Charleston, S.C. ," the Washington Post's Jenna Johnson wrote.
But after Breitbart News called out the announcement speech snafu—and a voter in South Carolina yelled out to Walker according to the Post's Johnson "What about the border?"—Walker began including border security in his stump speech from there on out."  Read the entire article here

Read these Related Posts: