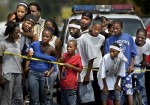 Philly Starts 2012 with 6 New Murders – The New Favelas
The City of brotherly love and marauding black gangs welcomed the new year in typical Philadelphia style, with SIX MURDERS !
No one is surprised that the absolute hell holes, dumps like Detroit, and Camden NJ, and East St. Louis Illinois and so on vote overwhelmingly for Obama.
As you know all these places have a few things in common, the most striking of which is that they are all run by left wing community organizer types, just like Barack Hussein Obama – as you well know, we as country, are heading straight down that path. Why would you think that Obama will do anything different to American than what he did to the slums of Chicago.
Philly Starts 2012 with 6 New Murders – The New Favelas
The other glaring thing that these dumps have in common is that a large percentage of their population is black.  Not only that but the violent  committed in those places is almost exclusively perpetrated by blacks.
The other factor that they all have in common, a fact not very publicized by the Government propaganda organs, aka, the Main Stream  Media, is that, per capita,  more of our wealth gets redistributed to those cities than to any other place. We spend more money there on housing , welfare assistance, schooling , crime prevention,  drug programs, community plans and whatever else nonsense the collective  leftist brain can fart than on any other locals.
The results are dismal. The schools suck, housing is mostly slums, drug addiction rampant, abortions  are as habitual as teenage pregnancies and crime is skyrocketing.
You can read into that what you want and draw your own conclusions, I just want to ask one question.
WHERE THE H*LL ARE WE HEADING?
If you want to get a glimpse of what will probably happen just take a look at Brazil's "favelas" Think that's far fetched? SIX MURDERS IN ONE NIGHT! That's a count to rival the very worst of Rio's slums
 Philly Starts 2012 with 6 New Murders – The New Favelas

Read these Related Posts: