The sheer incompetence and stupidity that the world has come to expect as the new norm in the Obama administration also applies to  Obama's hand picked  military commanders. The results are just as disastrous and deadly if perhaps more immediately visible.
Tragic evidence of Obama's  complete lack of respect for human life and the rule of law, in this case international law and the Geneva convention, is screaming out for justice from beneath the rabble and mass of cadavers and blood and guts that was once the Doctors Without Borders hospital in Kunduz, Afghanistan.
It's been a long time since  you wondered  why you've never heard of things like this because by now you know that the main stream media propaganda will cover up the endless atrocities committed or inspired by the Obama administration, so allow me to bring you up to speed.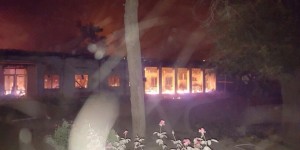 On October 3rd, 2015, the Obama administration conducted bombing operations against the hospital. The hell that Obama unleashed on the Doctors Without Borders Hospital lasted for more than an hour from 2:08 Am to 3:15 Am with bombing raids every 15 minutes.
Some of those who could get to safety do so, however "patients who were unable to escape burned to death as they lay in their beds" says Heman Nagarathnam, MSF ( Medicine Sans Frontiers )  head of programs in northern Afghanistan.
The world cannot understand how such a tragic error is possible since Doctors Without Borders had specifically provided the Hospital's GPS coordinates to both the Afghan forces  and to the Obama led coalition. Unfortunately, this type of Obama sponsored hell disguised as incompetence is not news to those of us here in America who witnessed and understand what Obama has done in Baltimore MD, in Ferguson, Chicago and other places in America and so many places in the Middle East.  This is what Obama does, he creates chaos and misery. This is what Obama does, he brings death to innocents the world over.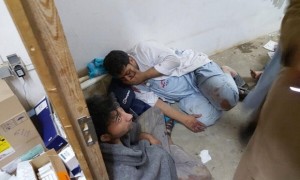 The question that is on everyone's mind, the white elephant in humanity's collective consciousness is "why isn't Obama facing charges of War Crimes?"
Ask yourself, as I know you do, how quickly would the media demand that George W Bush be hung in the public square if this had happened during the administration?  As is, the media is doing everything possible to hide this epic tragedy perpetrated by Obama, while at the same time hailing him as the Nobel Prize toting peacemaker of our time.
Obama has to answer for this murderous attack against innocents and against those that selflessly and so skillfully go out and carry the standard of compassion and love to the the most dangerous places on the planet. These are the best humanity has to offer and Obama has to explain why he ordered their massacre and he has to stand trial at the Hague for their deaths.

Read these Related Posts: