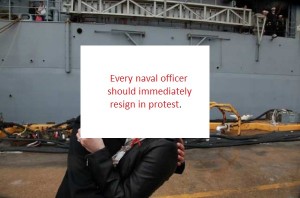 The unholy Obama legacy continues to spread its cancerous tumor on our country our society and our very souls.
Witness if you will the reason that Obama and Reid pushed so hard to have homos in the military; so they can embarrass, shame and humiliate them.
The chickens have come home to roost and The Navy just turned the beautiful tradition of the first kiss into a demonic perversion.
Every officer int he US military should immediately offer their resignation!
There is no reason do otherwise. Homosexuality is an "abomination to God."  What good is anything else that you do if you tolerate and consent to such a thing?
Every enlisted  man and woman in the US military should refuse to "re-up" for the same reason.
Are we supposed to be proud that our military is protecting a country that so willingly  thumbs its nose to God?
I for one am very happy that I am no longer in this military.

Read these Related Posts: