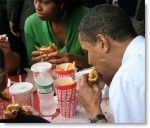 Our triple secret probation sources  inside the White House tell us that Michelle Obama is stepping up efforts to help Barry get  elected.
To that end she will announce her new solution to the  "war on hunger" program by single handily attempting to grow an Organic  Double Beef Cheeseburger tree.
When questioned by reporters and third grade students she assured them that she had special fertilizer that will yield the desired result. We don't know what that might be but our sources have spotted Michelle the Moocher burying stacks of former Obama speeches at the roots of the tree.
While most remain skeptical of the results, Michelle has already been nominated for multiple  Nobel Peace Prizes for her effort.
Supporters immediately  pointed out that the project is shovel ready and will cost less than confiscating the wealth of all non union whites.
Hillary Clinton quickly chimed in saying that it takes a village and her husband averred saying that he did not have sex with that woman – pointing at this wife.
"Them whites don't get to make all the inventions"  Michelle  is  rumored to have told Barry who raised his chin in a heroic pose and was silent as he waited for the Teleprompter to provide a response .

Read these Related Posts: