You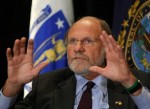 didn't really that Obama and his cabal would give the country's banking system a chance to recover did you? Nothing doing, here comes yet another disaster.
Most Americans never heard of MF Global but the bank traces it's roots to the late 1700.  Jon Corzine just wrote the last and final infamous chapter in the firm's annals.
"Federal regulators have discovered that hundreds of millions of dollars in customer money has gone missing from MF Global in recent days, prompting an investigation into the brokerage firm, which is run by Jon S. Corzine, the former New Jersey governor, several people briefed on the matter said on Monday."
That quote is from the NY Times and as much as the NY Times tries to play it down reality is that that translates to STEALING MONEY FROM CUSTOMERS!
The NY Times ties to to sugar coat it: " the unaccounted-for cash could violate a fundamental tenet of Wall Street regulation: Customers' funds must be kept separate from company money. "
That's a crock of  nonsense, it isn't a "tenant" it's a LAW!
As of now the numbers floating around are  in the $600 to $700 million range, but if history is an indication in this type of affair the initial estimates are usually a low ball.
The whispers are that John Corzine's firm stole  clients funds to cover up their proprietary losses! If that's the case then people should be going to jail for a very very long time.
This however is John Corzine, the darling of the Democrat party as corrupt and slimy  a dirt bag as they come and I have a funny feeling that he'll skate, after all you don't really expect this Justice Department to go after him do you?

Read these Related Posts: