Trey Gowdy is the Chairman of the Congressional Oversight Committee. The Committee on Oversight and Government Reform is the main investigative committee in the U.S. House of Representatives.
The front pages of every newspapers are blearing breaking news of a far left FBI nut job being in charge of the Hillary investigation. Following that he became the lead investigator in the fake investigation of President Donald Trump.  The question we have to ask is, where the hell was Trey Gowdy during all this time? Apparently there have been red flags raised about agent  Peter Strzok from day one and just about everyone including the congressional janitorial staff knew that he  was bent. Apparently everyone knew he was a leftist nut job…everyone but the Chairman of the Congressional Oversight Committee that is.
As far back as this summer Muller had Peter Strozk removed from the investigation and relegated to a Human Resources job deep in the bowels of the FBI beast. How did Trey Gowdy not know about this? Why didn't he do anything?
There are more questions of course such as how did alleged leftist nut job FBI agent Peter Strozk influence the Hillary investigation? Why is there no internal FBI investigation on this matter? Was Peter Strozk acting alone was was he under orders from that former FBI Director James Comey? Why did Mr. Comey keep Peter Strozk as the lead investigator given the latter's rabid hatred for the right and slavish devotion to the would be Hillary dictatorship?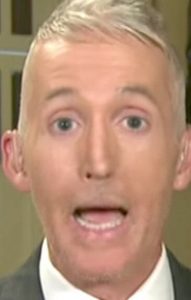 These  questions are evident to a blind man, but apparently not to ones who chose to look away like Try Gowdy and the re
st of the Washington DC Swamp Pigs.
WHY HAS TREY GOWDY DONE NOTHING ALL THIS TIME?

Read these Related Posts: