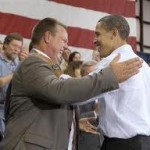 Obama spent over  $8 million  to upgrade the border patrol station at Whitetail Montana. Now the Canadians , much like everyone else,  tell  Obama that we have to pay for security on the Canadian side also or else "take off you hoser" I guess the genius resident didn't know that a there are two sides to a border and that  a joint venture usually works better if both sides are on board.
One would think that the Diplomat Messiah, Citizen of the World, Nobel Prize "wiener" would be able to go and "sit down" to negotiate with the "president of Canada" and talk them into spending the $1 million dollars a year to upkeep their side of the fence. Enter one Jon Tester (who the heck calls himself "Jon" anyway)  the Democrat senator form Montana.  Like Obama , John Tester  also foamed at the mouth about how bad George Bush damaged our international reputation and how the Black Marxist Messiah would fix all that and how he too would join in to  help.
Apparently it seems that the Canadians don't think much of Jon Tester's ability to "sit down" with them either because they told him to also take a long walk off a short pier while holding hands with the other Democrat form Montana.
The solution according to Democrat Resident Obama and Democrat Senator from Montana Jon Tester is to just close the station and piss away our  $8 million. I don't know about you but more often then not I work hard until 8 or 9  o'clock at night to earn my living, and thanks to Obama it's getting harder every day. To so cavalierly throw out our money, money that we have yet to earn, is something that really gets me upset. 
 TAKE THAT MONEY FORM OBAMA'S CHECKING ACCOUNT NOT MINE! Take it form the accounts of the two democrats Jon Tester and Max Baucus not form the yet to be started checking accounts of our children! 
Sen. John Tester , Democrat Montana, and his buddy Sen. Max Baucus Democrat Montana , were gushing and giggling over being able to appropriate$77 million dollars  for Montana –  $31 million of that  was  spent  on the Whitetail station and it's sister station that is just twelve miles away. 
  How did the democrat dynamic duo manage to steal $31 million for a project , half of which,  that they now want to scrap ? 
 Well, Sen. max Bacus , the other  Democrat senator from Montana is the current  chairman of the Senate Committee on Finance and when not busy throwing away our money on  hare brained projects he is also busy voting  to approve  every illegal alien amnesty plan that ever came down the pike. 
I guess he plans on building the border stations to keep us all inside the communist paradise he envisions for us. 

Read these Related Posts: