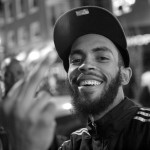 Philadelphia is once again the site of a rampaging mob of blacks Obama supporters attacking whites.
Two women sitting inside  a Max Brenner restaurant were attacked by a mob of 100 blacks.
The mob was returning from a "music festival" – don't you just love all that culture we pay for- and were committing a series of violent assaults and robberies. Their new victims were sharing chocolate fondue when one of the blacks snatched one of their cell phones. One of the women, Maria, called for help  and what she got for her effort was a beating at the hands of five black girls.   "She was on the sidewalk, starting to scream "thief," she said, when someone from behind punched her in the jaw.  She said she turned, jaw throbbing, to see the girl who had hit her standing with five other teens. "What are you going to do?" she said the girl who had punched her yelled.   The teens were laughing, she said. "They were fearless. It seemed like they weren't taking anything serious.""
BY HIDING THIS THE MEDIA IS AS GUILTY AS THE CRIMINALS
Do you think this will stop unless we stand up to these mindless scumbags and stop them?
And to answer the libs, yeah the black marauders are Obama supporters.

Read these Related Posts: