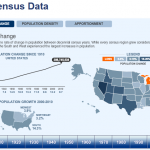 Some have made the  argument that somehow the new census data shows that liberals are now moving into traditionally red states.  It's a convoluted argument which relies mostly on the large influx of blacks from  Louisiana into Texas in the wake of  Katrina and the presumtive invasion of hispanic illegals.  Nonetheless it is possible that liberals left the paradise of the blue states to come and help red states achieve socialist nirvana…Yeah right.
OK enough of this, the rest of the post is for normal people. Reality is that Americans fled the socialist oppression of red states in droves and headed for the freedom both social and economic of red states.  The states who have benefited the most are Arizona, Florida, Georgia, Nevada, South Carolina, Utah, Washington,  Florida. The losers  were Illinois, Iowa, Louisiana, Massachusetts, Michigan, Missouri, New Jersey and Pennsylvania. New York and Ohio!
This we know, 8 of the states that benefitied form the migration have ZERO or practically zero state income tax!  Most of the immigrants came from states with the highest taxes in the country!
We also know that all of the 8 states which have gained in population are undisputed "SHALL ISSUE" states, meaning that these states adhere to the constitutional and God given right to carry fire arms on their person for personal protection.
The data also shows that the states from which Americans fled have multiple cities – listed below- ranked in the top worst murder rate cities in the country ( how's that gun control working?)
Michigan :Flint, Detroit, Ypsilanti  and Saginaw.  Ohio:  Youngstown,  Cleveland, Cincinaty and Columbus.  Illinois Chicago and Rockford. California Los Angeles, Richmond , Oakland and Compton. New Jersey: Newark and Camden. New York: New York City and  Syracuse.  Pennsylvania Philadelphia and Wilkes Barre.
Ethnically it is also interesting to note that with the obvious exception of Florida  the states that have gained the most population also have the lowest number of Jews as a percentage of the general population. The population shift also trended away from states with the highest Muslim population, with the exception of Texas.
It's also interesting to note that with the exception of Washington state the population migrated away from the states with the most atheists and towards the states where religion plays a much more important role,including states in  or near the Bible Belt

Read these Related Posts: