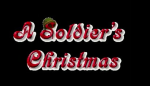 "Another version of this is a song, the result of collaboration between Ellen Stout, and her late father, Father Ted Berndt. In 2003, Ellen was a radio personality at WLTQ in Milwaukee, WI. During the holiday season that year, she had received a copy of the poem written in 1986 by Lance Corporal James M. Schmidt from a listener. She shared it with her Dad. Together, with her Dad narrating and Ellen producing, they created the song heard each Christmas season.

href="http://www.conunderground.com/wp-content/uploads/2011/12/A-Soldiers-Christams.png">http://www.youtube.com/watch?v=OdEFaOoSBsw
Her dad was 81 years old at the time; a WWII Marine Corps veteran, a Charismatic Episcopal Priest and battling pancreatic cancer. He lost his battle just 3 months after recording the song. All he ever wanted to do was, in his words, "touch lives and make a difference." Before he passed, he felt he had.
You can hear the song, download a copy and even "meet" Father Ted because a video of his final interview with a local TV station where he relayed why this project meant so much to him. Click for more"

Read these Related Posts: