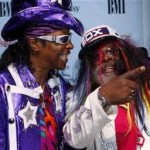 Police Sgt. Sammy Morris said that on Sunday  a gunman fired a handgun into a crowd  during a large fight at an outdoor concert venue in Cleveland, leaving four people wounded after a "Unity in the Park" festival featuring funk music artist George Clinton.
"It was a large fight. Somebody in the crowd produced a handgun and fired several times," Morris said, adding all four victims were hit by gunfire.
Among the victims there is  16-year-old boy who had suffered a gunshot wound to the head and a 20-year-old woman suffered a gunshot wound to the neck, police said. A police statement added that a 14-year-old boy and a 23-year-old man also were hospitalized – each with a gunshot wound in the left leg. None of the four were identified by name.
Morris said the fighting began before 10 p.m. at an intersection near Luke Easter Park, the venue for the day's festival and concert. It wasn't immediately clear how long after Clinton or other musicians had performed that the shooting erupted – nor how many people were still in the area.

Read these Related Posts: